Opinioni dell'Hotel ILUNION Mérida Palace

9.8

Pulizia

9.3

Servizi

9.9

Localizzazione

9.9

Staff

9.3

Prezzo
9.6
Eccellente
Punteggio ottenuto in base a recensioni reali lasciate dai nostri clienti dopo il soggiorno
Recensioni verificate
Inviare opinione
Non ci sono commenti nella tua lingua. Mostriamo altri commenti

Spain

We stayed in a Junior Suite which was beautifully appointed. Unfortunately there was no natural daylight or windows opening to the outside. We found this claustrophobic and the room dark. Staff very friendly and helpful. Unable to have a drink in the bar after 11.30

United Kingdom

Very nice Hotel the room was so spacious. We had a room which a person with disabilities would have no problem. Was clean the staff were friendly. Would definitely stay again for longer

Us

Fantantic Hotel with an unbeatable location. Really good service, attentive staff, excellent commodities, a nice restaurant where to try delicious specialities....

Uk

Perfect location in the historical city of Mérida. Close main touristic attractions, restaurants, shopping areas... Without a doubt, I would recommend this hotel to anyone interested in visiting this charming city.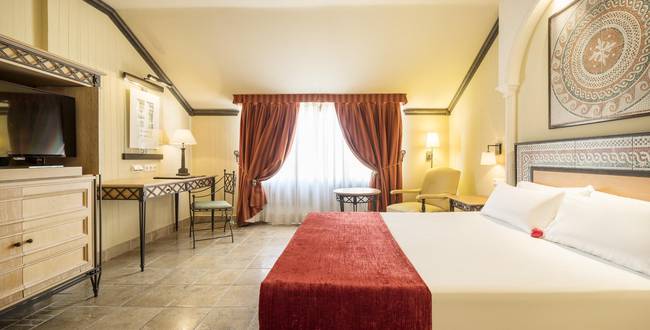 OPINIONI HOTEL MÉRIDA PALACE
Raccontaci la tua esperienza presso l'hotel ILUNION Mérida Palace nel centro di Mérida e aiutaci a migliorare il nostro servizio. I tuoi suggerimenti sono utili affinché i futuri clienti possano farsi un'idea quando pianificano i loro soggiorni a Mérida, la città romana che si è conservata meglio in tutta la Spagna.